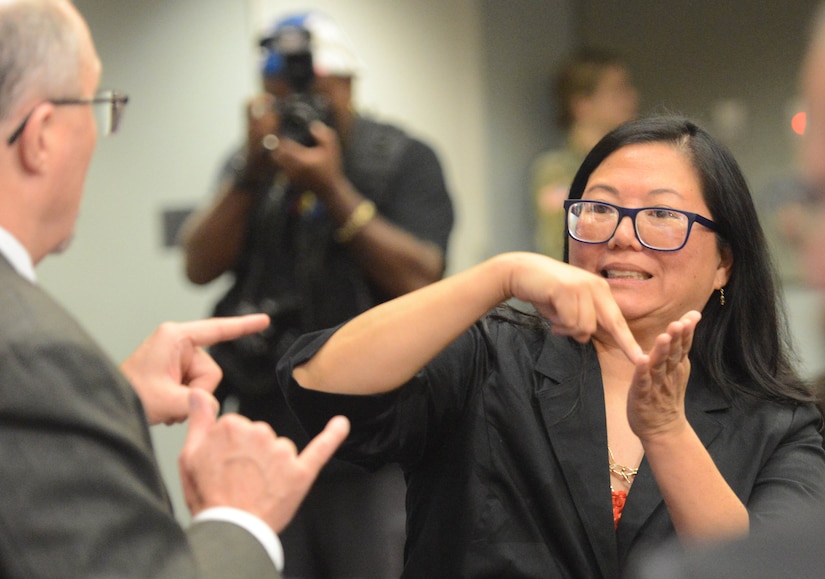 By David Vergun, Defense.gov
WASHINGTON -- Twenty-five personnel received Department of Defense Disability Achievement and Recognition Awards at a Pentagon ceremony, Oct. 4.
Kevin Kelly, deputy director, Office of Force Resiliency, Office of the Undersecretary of Defense for Personnel and Readiness, provided opening remarks, commending DOD's advancement of diversity and inclusion in the workplace.
Strength Through Diversity
"As leaders, it is our job to attract, recruit, and retain a strong and disciplined workforce in order to ensure the readiness and lethality of our military," Kelly said. "Strength can only be found within diversity -- diversity of thought, skills, experience and perspective. A workforce of solely like-minded individuals breeds nothing but status quo and complacency. It is in our diverse perspectives and experiences that we advance. It is in our ability to bring together shared goals, but unique perspectives, that we remain at the forefront of innovation."
Each October, DOD celebrates National Disability Employment Awareness Month, Kelly said.
This commemorative month has its origins in 1945. During the World War II era, as service members with disabilities from the war began to return home, the American public became increasingly interested in the workplace participation of people with disabilities, Kelly said. That launched a weeklong celebration during the first week in October 1945, and later was extended to the entire month.
This year's theme, "America's Workforce: Empowering All," highlights the importance of the full participation of all individuals in the total workforce, he said. Fundamental to mission readiness is the promotion of an environment free from personal, social, or institutional barriers that prevent personnel from rising to the highest possible level of responsibility commensurate with their abilities.
DOD Component Awardees
Department of the Air Force
Defense Logistics Agency
Defense Technical Information Center
National Security Agency
Individual Awardees
Department of the Army:
Chief Warrant Officer Jonathan W. Hosley
Staff Sgt. Jason T. Pacheco
Tracy Tao-Moore
Nathan "Dale" Whittaker
Department of the Navy:
Donna Spaddy
Jerry Boster
Department of the Air Force:
Master Sgt. Benjamin G. Seekell
Christopher Ferrell
Office of the Secretary of Defense, Defense Agencies, and DOD Field Activities:
Susan "Jen" Haggerty, Office of the DOD Chief Information Officer
Sally Davis, Defense Logistics Agency
Elveda Pitts, Defense Contract Management Agency
Darryl Bartlett, Missile Defense Agency
Gregory Sampson, Office of the DOD Inspector General
Margaret Posa, Office of the Deputy Inspector General
Edna Johnson, Washington Headquarters Services
Gail Potts, Pentagon Force Protection Agency
Katherine Rose, Defense Contract Audit Agency
Doriann Sison, Department of Defense Education Activity
Sandra Brown, Defense Commissary Agency
Joy Atkinson, Army and Air Force Exchange Services
Patrick Jue, National Geospatial-Intelligence Agency
Richard Neth, National Security Agency
Robert Dela Rosa, Defense Security Service
Jan Bickhart, Defense Intelligence Agency
Karren Brunell, Defense Finance and Accounting Service