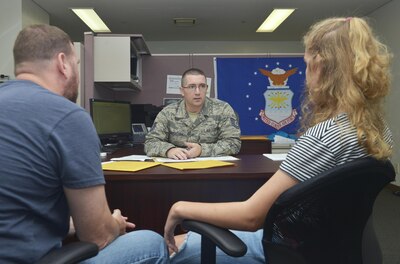 By Air Force Staff Sgt. David Owsianka 374th Airlift Wing
YOKOTA AIR BASE, Japan, Oct. 6, 2017 — Only 1 percent of the U.S. population qualifies for Air Force service. For Air Force recruiters, finding that 1 percent can be a grueling task -- especially when they are searching in Japan.
At an Air Force recruiting office here, Tech. Sgt. Angelo Barcelona, the 369th Recruiting Squadron's Pacific operations program manager and recruiter, helps civilians become airmen.
"There is a great need for an Air Force recruiter here in Japan, and I am able to help enlist some great individuals," Barcelona said. "We offer people the opportunity to become an airman as enlisted or officer."
The mission of the Air Force Recruiting Service is to inspire, engage and recruit future airmen to deliver airpower for America. The emphasis is on recruiting intelligent young men and women who can be trained to handle the sophisticated systems and equipment of today's highly technical Air Force.
Barcelona is not just the Air Force recruiter for Yokota. He helps recruits enlist from Misawa Air Base, Marine Corps Air Station Iwakuni, Camp Zama and other military installations throughout mainland Japan. He performs two additional tasks to help civilians become airmen: he is in charge of the Delayed Entry Program and the Military Entrance Processing Station.
He meets with the individuals once a month in person or on the phone, and he schedules applicants to meet with local doctors and complete medical checks to make sure they are medically qualified to join.
"Being the recruiter for the entire island of Japan; communication by email and phone is essential because of the amount of money and time it saves," Barcelona said. "Applicants are only required to meet when we absolutely have to, whether it's signing documents or leaving for basic military training. "The conversations are used to touch base with the individuals joining and ease their transition into the Air Force."
Joining the military may be challenging, Barcelona said, and is here to help in setting up future airmen for success.
"I want people to know that it is a great opportunity, and everyone's experience is going to be different no matter what job they get or where they are stationed," he said. "I think that the breakdown of [basic training] will instill that independence and confidence in you. It really helps an individual grow. And it's amazing for a young person to get their footing and go out into the world to start their life."