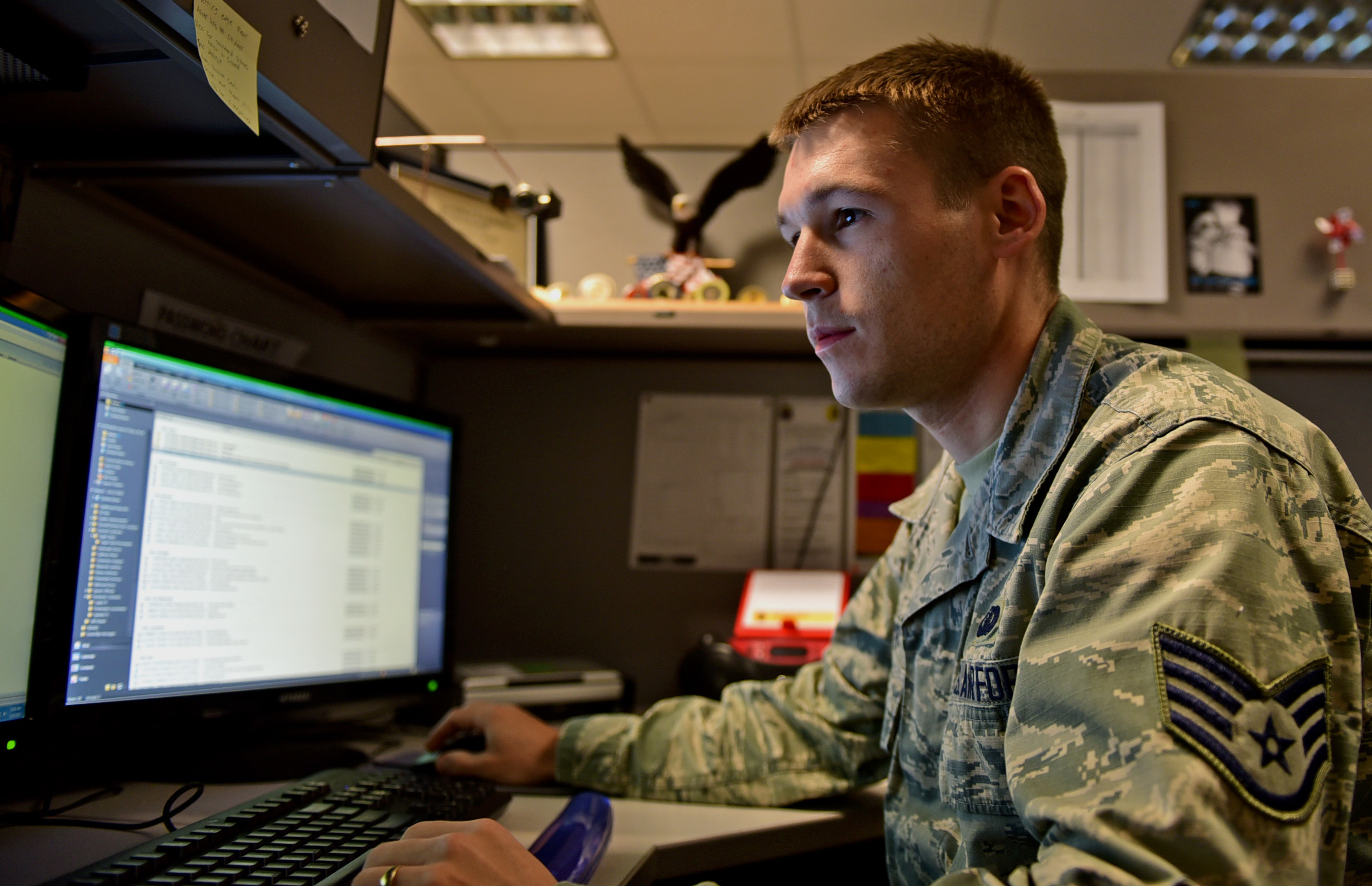 By Air Force Airman 1st Class James Miller 28th Bomb Wing
ELLSWORTH AIR FORCE BASE, S.D., December 17, 2015 — From base landscaping to office computers, nearly everything found at Ellsworth flows through the 28th Contracting Squadron.
Among the airmen leading the charge is Air Force Staff Sgt. Chris Meyer, a contract administrator with the 28th Contracting Squadron. Meyer provides contracting support and business advice to Ellsworth and combatant commanders, as he deals with base contracts daily.
As a contract administrator, Meyer handles many facets of the contracting process, from the preliminary overview to closing them out once completed.
"We do most of the legwork, which can be a lot," he said. "However, we are proprietors of the taxpayers' dollars, so we try to get the best deals in the most expedient manner."
However, Meyer is not always in the office at his computer; he also participates in contractor evaluations to ensure they are getting the job done correctly and on time.
"We may mostly be seen behind our desks, but the evaluations are important to make sure the job is getting done on pace, so we aren't wasting taxpayer money," he said.
Former Infantryman
Although Meyer may spend a lot of time behind the desk now, that wasn't always the case -- he served five years in the Marines before switching to the Air Force.
"I enlisted for four years as an anti-tank assault team infantryman and took an extra year for a special duty with an antiterrorism security team," he said. "It was a lot different than my current contracting job, ... [but] while some people may think it is boring, it is exactly what I wanted."
When Meyer visited the Air Force recruiter, he signed up for a job in the contracting career field, which would allow him to face new challenges.
"I am still helping people and making sure the military's needs are met," he explained. "Now my job is a lot less life-threatening, and I can spend more time with my family. That was the biggest reason for the switch. I didn't want my kids to not know who I was, or worst-case scenario, not know me at all if I didn't make it back."
Whether he is at the office supporting the mission, or at home supporting his family, Meyer said, he could not be happier with how he is serving.